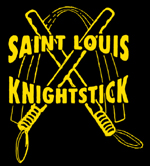 25 Fawn Meadows
Eureka, MO 63025
Phone: 314.938.3853
Fax: 314.938.3853



Welcome to St. Louis Knightstik!

St. Louis Knightstik specializes in building custom jewelry including corporate logos and awards & miniature police badges, as well as custom rings!
Interested in having your company's logo or emblem put on a ring? Your employees would love to have something to show pride in their work, and a ring or pendant is the PERFECT item!
Are you tired of all the same, boring, overdone designs you see on jewelry at the mall? We can design AND build a completely custom piece for you!
You enjoy your hobbies, right? We can build jewelry that lets you proudly display your love for sport, hobby, and other pastimes!
We guarantee our work to be the best, and we stand by that.